The Shining: Talking Grady Twins
Ships Worldwide
Prototype Shown
This item will require a signature upon delivery.
Earn Rewards Points
You'll earn 80 rewards points when you buy this item. Rewards FAQs
Share this
---
Product Description
Stanley Kubrick's 'The Shining' has been immortalized as the Grady Twins join the Living Dead Dolls family!
The memorable scene from the cult classic is recreated: depress the button discreetly hidden on one of the twin's backs and hear her speak their signature phrases including "Come play with us, Danny…" and "For ever, and ever, and ever…"
The Grady Twins come outfitted in matching blue dresses with ruffle detailing, waist belts with bows, knee-high socks, and Mary Jane shoes.
The LDD Presents The Shining: Talking Grady Twins stand 10" tall and feature 5 points of articulation. They are packaged together in a die-cut window box, perfect to display for ever…and ever…and ever.
*This product is intended for collectors ages 15 and up and is not suitable for children. The product may contain small parts that can be a choking hazard as well as sharp points that can cause injury. The item is not designed for rough play and is considered a display item for collectors.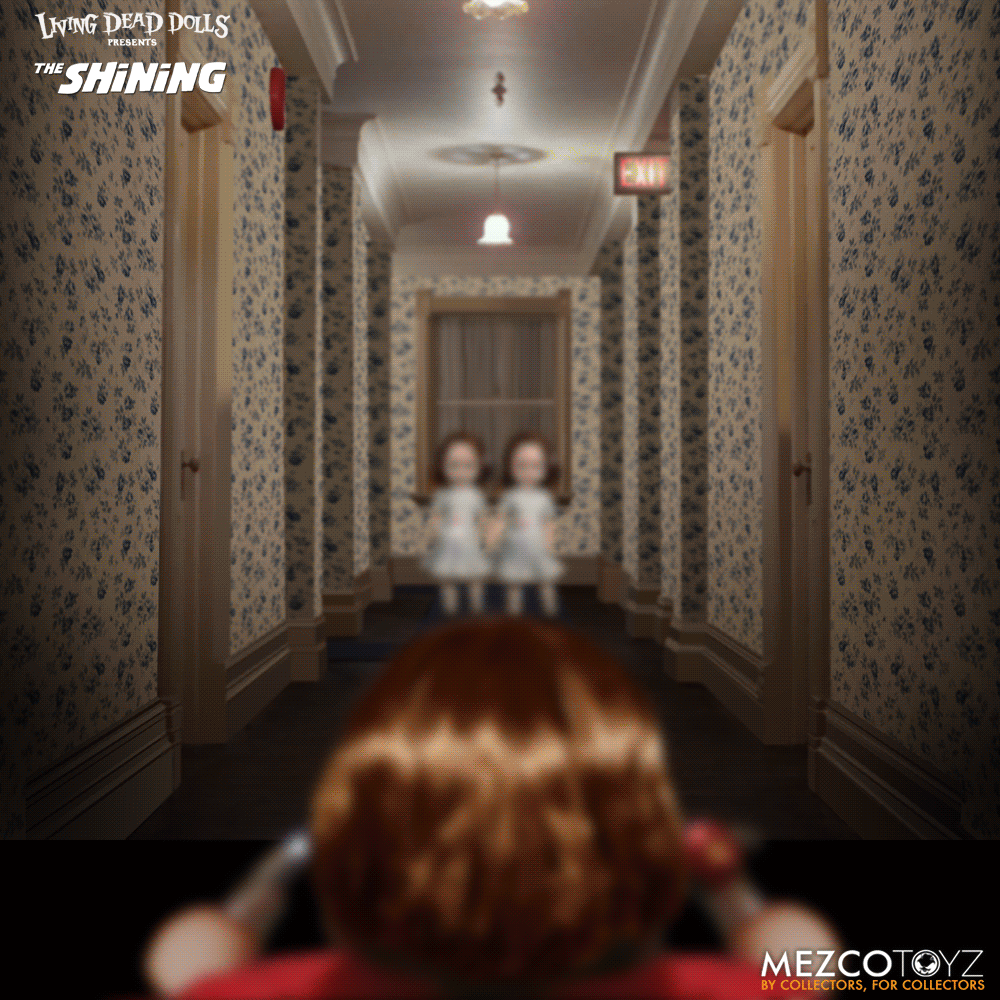 Product Details
Packaging Type
Window Box
Recommended Ages
15 and up
Mr. Frights
from Dublin, OH USA

You'll definitely want to go play with these twins!
LDD Presents The Grady Twins

If there was ever a set of dolls you would want, it's these. This is the coolest horror release from Living Dead Dolls creator Mezco Toyz, and I'll tell you why.

First off, there's two of them! They are sold as one item and they are both unique to each other. One of them has a sound feature that plays three phrases. The other is a normal doll. This duo works together because of their appearance in the film The Shining. Because of how this product was designed, there's no way for them to actually work out otherwise. It would look silly to have one doll, especially if it was the one that didn't speak. Pretty brilliant of Mezco when you think about it.

Before they showed up I was wondering if they did that play off of each other sound thing some toys in the past had offered, this is not the case. A little disappointing because my imagination ran away with me for a bit, but at the same time, it would have added to the price I'm sure. As it is, it's like buying two of the LDDs with a slight discount as most are around $45 - $65 depending on their collectibility. It's a big price bonus on something that no one else has done at this point. Two full size dolls with the talking feature? come on...!

On a side note, they do go pretty well with the recently released Jack Torrance LDD Presents doll. Now Mezco just needs to release a Danny on the Big Wheel...

With the new Doctor Sleep moving coming and people being such fans of the original Shining movie this isn't going to be around forever so you may want to jump on these before they go up in price.

Personally, of all the LDD Presents dolls I own these two are the absolute creepiest of them all. In fact, I'm fairly sure they are one of the most creepy things in my whole collection. I don't often get weirded out by my own things, my kid, I hide some of my stuff for her sake; these I might just tuck away for my own sake... HA HA!

This set of Living Dead Dolls is really great and any collector should have their eye on this. Shining fans for sure. Hopefully, you won't wait too long and can add them to your collection!

Remember to check out www.mrfrights.com for all the pictures that go with this review and all my other reviews!