Burst-A-Box
Scarred Chucky
Ships Worldwide
Prototype Shown
Earn Rewards Points
You'll earn 50 rewards points when you buy this item. Rewards FAQs
---
Product Description
Introducing Mezco's Burst-A-Box! A pop culture infused twist on one of the most beloved, classic toys, the jack-in-the-box.
The Bride of Chucky Burst-A-Box features Scarred Chucky – the infamous homicidal doll containing the soul of a serial killer.
Approximately 14" tall when "popped", the Burst-A-Box is a finely detailed tin music box that encases a detailed sculpt and clothed spring character.
Designed after his appearance in the film, Chucky features a scarred head sculpt and sports his signature 'Good Guys' overalls with stripped shirt.
Burst-A-Box: Scarred Chucky comes packaged popped-out of his tin and perfect for display in a collector-friendly window box.
*This product is intended for collectors ages 15 and up and is not suitable for children. The product may contain small parts that can be a choking hazard as well as sharp points that can cause injury. The item is not designed for rough play and is considered a display item for collectors.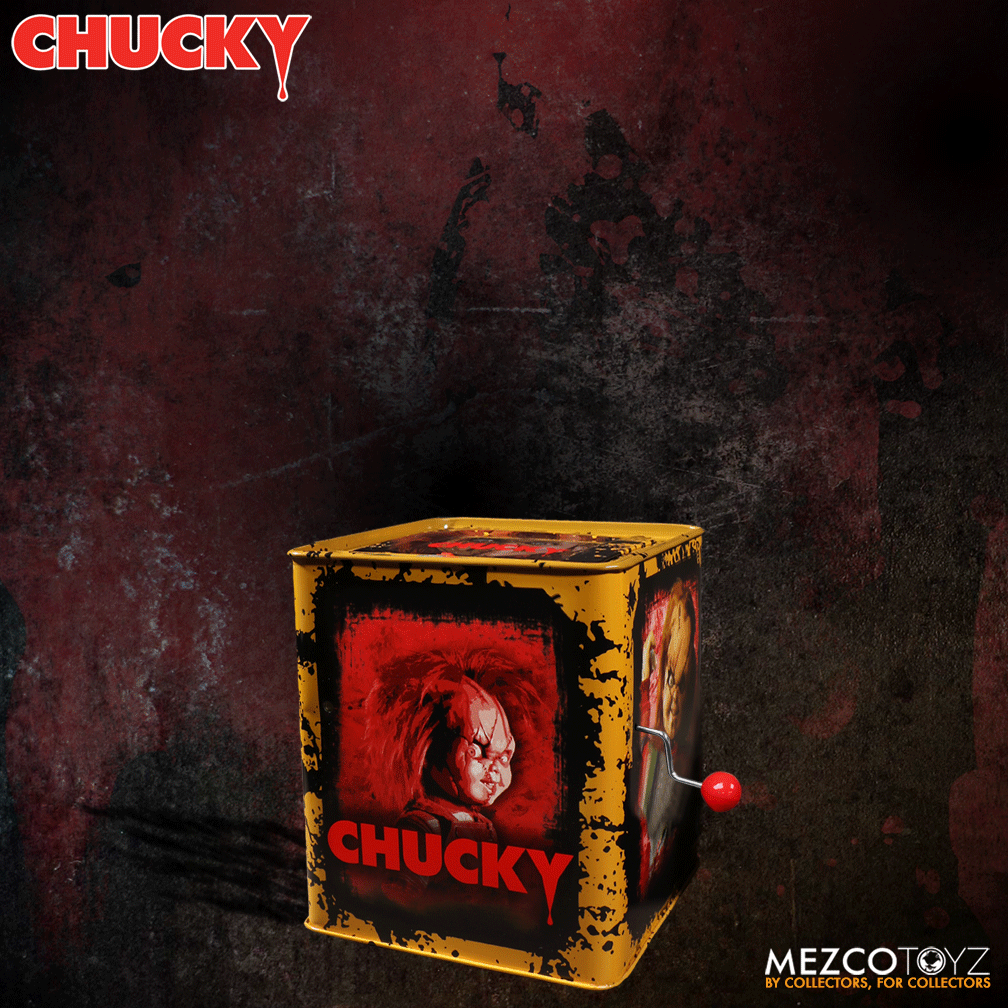 Product Details
Packaging Type
Window Box
Recommended Ages
15 and up
Mr. Frights
from Dublin, OH USA

Chucky Burst-A-Box, Try not to flinch!
The Chucky Burst-A-Box is a thing to behold, indeed. Just try to crank that handle and hear Pop Goes The Weasel play without building up to a cringe at the fear this thing is going to jump out at you. We all saw when Buddy the Elf had to test these things out, so yeah, it's like that. How's that for an internet challenge... Don't flinch!

The likeness on Chucky, while a bit stylized, is pretty good. It's not often we get a really solid look-a-like figure from Chucky stuff, which has always bugged me and kept the Child's Play part of my collection relatively slim. Mezco has it though. The head on ol' Chuck is all scarred and deranged looking including staples and sinister smile. The clothes on the spring portion of the toy hearken back to the original films which is a nice touch.

The outside is made of some nice quality metal and is covered in various Chucky artwork. The inside is a Jack-in-the-Box figure on a slightly tight spring to ensure it really comes bursting out of that box....

See my full review at www.mrfrights.com