Red Skull
2017 Fall Exclusive
This item will require a signature upon delivery.
Earn Rewards Points
You'll earn 80 rewards points when you buy this item. Rewards FAQs
Share this
---
Product Description
All sales are final on this item.
The origin of the Red Skull has had numerous revisions over his nearly eight decade history. Likewise his appearance has also changed. With this Fall Exclusive, Mezco presents the Red Skull in the classic green jumpsuit he wore during his 1st encounter with Captain America in 1941. 
With the militia force of Hydra's army at his disposal and harnessing the untold power of the Cosmic Cube, the Red Skull is a constant threat to all of humanity.
Featuring over 30 articulation points, intricate sculptural work and incredible costume detailing, the final product creates an iconic vision with a "real world" look.
The One:12 Collective Red Skull Fall Exclusive figure joins the One:12 collective with a comprehensively detailed outfit and unique character specific accessories.
This limited edition Mezco Fall Exclusive is only available via our website and at the Mezco NYCC booth #1954 while supplies last.
The One:12 Collective Red Skull Fall Exclusive features:
Two (2) Detailed head portraits

One:12 Collective body with over 30 points of articulation

Classic green jumpsuit

Hand painted authentic detailing

Over 16cm tall

Six (6) interchangeable hands including

One (1) pair of fists (L & R)

One (1) pair of  gun/ cannon holding hands (L & R)

One (1) Cosmic Cube holding hand (R)

One (1) posing hand (L)
Costume:
Classic green jumpsuit

Harness for fuel tanks

Sculpted belt with blaster holder

Sculpted boots
Accessories:
One (1) Cosmic cube

One (1) Blaster

One (1) Blaster holster (attaches to belt)

One (1) cannon

One (1) Cannon fuel tank (attaches via hose to cannon)

One (1) Harness (holds fuel tank)

One (1) One:12 Collective display base with logo

One (1) One:12 Collective adjustable display post
Each One:12 Collective Red Skull Fall Exclusive figure is packaged in a collector friendly box, designed with collectors in mind, there are no twist ties for easy in and out of package display.
Product Details
Packaging Type
Closed Box
Recommended Ages
15 and up
A viewer
from New York, NY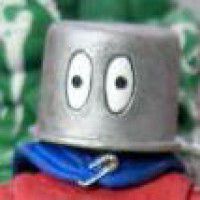 A viewer
from Louisville, KY, USA

Respect the Classics
This Classic Red Skull is a fine example of one of the reasons why I have dived in head-first in this line (at least the Marvel side of it). From the intricately detailed headsculpts (including a very menacing one and a crazy headsculpt that really helps accentuate his classic comic look) to exclusive weapons like his flame thrower, this figure is a must for any ONE:12 fan, especially if you have the Classic Captain America figure!
The box art on the back of the box is also a great reason to continue to display these boxes (at least the smaller Con exclusive ones).
My only minor gripe about this figure is that to my knowledge the cosmic cube has never been purple, only blue (which you can get with the regular Red Skull figure).
Other than that, a solid addition to this line!
CobraShadowJoes (Steve Wagner)
from NJ USA

Mezco Toyz One:12 NYCC Exclusive Marvel Red Skull Figure Review
The Red Skull you are about to read about, is from his first encounter with Captain America in 1941. Its a very clean green design, evil enough to be distinguish between olive green friend or communist foe. There are many things to like about this crazy character, depending on the time you were staying up late to read comics (Some of us still do). Being a WWII junkie and Captain America fan, Red Skull became a easy Nazi you love to hate. He admired Hitler for his ideological vision, but grew tired of being his subordinate. Lets see where this Mezco Red Skull falls as a legit one:12 figure.

In the time I spent playing and posing Red Skull, I didn't experience any issues with him. The stitching in his uniform is clean with no frays. The Hydra arm band was a necessary detail to really add to his look. He comes with his blaster with a Hydra holster that doesn't interfere with the flamethrower belt. The flamethrower accessory is hands down my favorite part of this figure. It's well made and has an authentic look that I love. The belt and tubing also hold up well when posing and taking it on and off. When Red Skull is fully geared up, he oozes that look of a nasty Nazi WWII mercenary.

Read the full review at the link below.


http://www.cobrashadowjoes.com/2017/12/mezco-toyz-one12-nycc-exclusive-marvel.html
A viewer
from Washington, DC